As part of the creation of our report, BrandLeaders 2017: Does brand need a rebrand? We took a close look at how brand is viewed in Australian businesses today, versus several years ago. What we found was, there are three prevailing attitudes to brand that have evolved over time.
In this article, we'll share with you an overview of these attitudes and we'll provide you with a short diagnostic tool that will give you a very broad indication of where your business could sit.
How brand used to be treated
In the past, brand resided firmly within the marketing team's remit. It sat separately from the strategic direction of the business and was simply one element of a broader marketing strategy. This approach frequently had fragmented results, however, with external marketing promising customers one thing, whilst the experience customers actually had on a day to day basis was something else entirely.
Simply put, what was promised and what was delivered were two different things.
Things have changed
Now brand is broadly understood by marketers as being so much more than a marketing or communications tool. A strong brand is seen as the single organising thought behind a business.
Brand guides the positioning of a business in its market place. It defines a vision and a set of behaviours that drive the internal culture of a business and result in a consistent experience for clients and customers. Brand now facilitates the top-level business strategy that touches every part of a business, from research and development (R&D) to sales.
But have all organisations made the shift?
Through our own experience, and in speaking to our 14 senior marketing leaders as part of our report, it has become clear that, when it comes to the role of brand within a broader business context, attitudes vary widely within senior leadership teams. We found some organisations aligning more towards an older perception of brand, some embracing a more modern, holistic and contemporary view, and others sitting somewhere between the two.
The spectrum of attitudes
Through our experience, we have identified that Australian organisations hold a wide spectrum of attitudes towards the role of brand, with three main groups becoming apparent:
Embracers – where brand sits at the heart of the organisation
Aspirers – where brand is seen as critical by some stakeholders within an organisation but other stakeholders are more circumspect
Doubters – where brand is a function of the marketing department, and is seen as a cost and not a strategic asset
We explore the characteristics of each of these businesses in more detail as part of Deep Dive 1 which you can download here.
The prevailing attitude
Our observation of organisations operating in Australia today is that there is currently a bell-curve along the spectrum.
The majority of organisations are Aspirers and so want to create brands that are strong assets and that permeate throughout the organisation, but they are faced with a number of challenges, including justifying ROI and balancing customer experience and brand strategy.
A small but growing number of Embracers have embraced brand across all levels of the organisation.
But where do you sit?
Upon reading the first Deep Dive, a number of our subscribers reached out to us to find out where they sit on the brand attitudes spectrum. In order to accurately establish this we work with them to create a customised research approach that measures a number of facets such as: employee engagement, brand perceptions, clarity of positioning and so on.
However, we thought we'd put together a high level diagnostic tool for those of you who perhaps are interested in getting a broad understanding of where you might sit on the spectrum.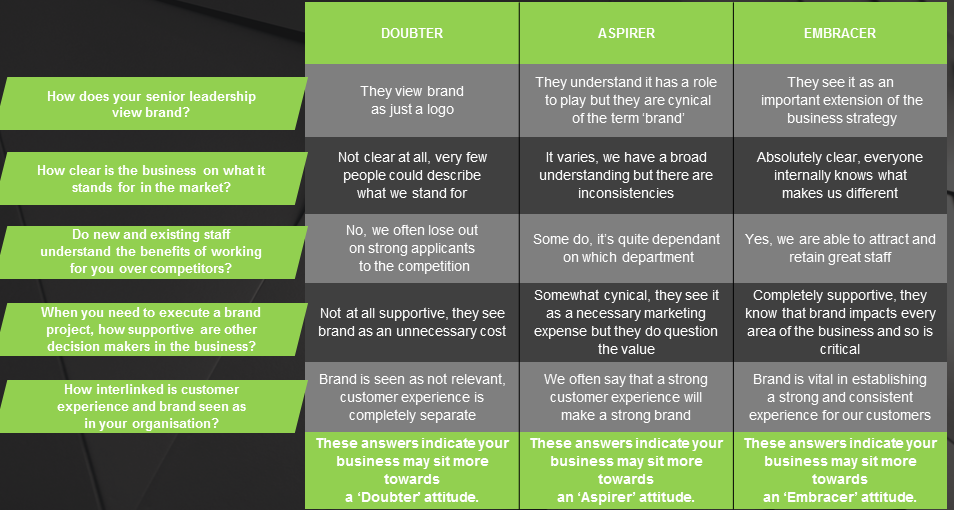 To find out more about each of these attitudes, and the characteristics that sit within each, download the first Deep Dive of the report here.