The power of a one-degree course correction
Experts in air navigation have a rule of thumb known as the 1-in-60 rule. It states that for every 1 degree a plane veers off its course, it misses its target destination by 1 mile for every 60 miles you fly. This means that the further you travel, the further you are from your destination.
In many respects, evaluating the health and effectiveness of your brand and marketing activity is much the same. As your business grows and evolves with competing priorities and strategies, it is critical to ensure your brand is fit and aligned to deliver on business objectives, market ambitions and business strategy.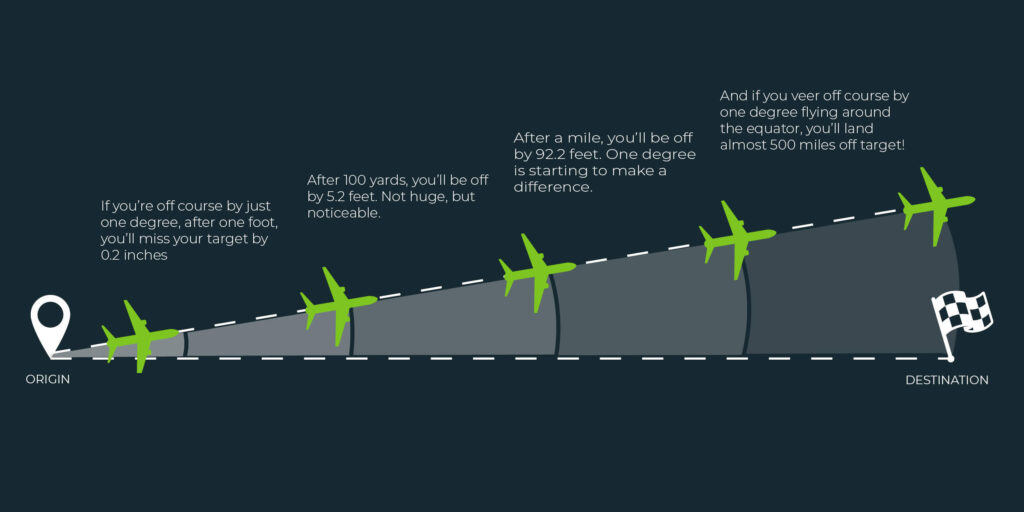 And it is more than simply collecting the numbers
Brand health measurement and evaluation delivers objective data, evidence and insight, enabling businesses to generate or modify strategy and decision making.
In the context of B2B organisations, brand measurement requires a broader internal and external understanding, as multiple stakeholders across the C-Suite have different expectations when investing in tracking their brand. Accountability. Return on investment. Alignment of strategy. Internal culture. Marketing direction… the list goes on.
As business decision making continues to be plagued with uncertainty, and as economic conditions continue to waver, being able to demonstrate certainty, assurance and accountability in the direction of your brand and business strategy is essential. It is in this context that brand health measurement can deliver the highest quality of insights, empowering confidence in business and brand strategy throughout your organisation.
The importance of brand measurement in B2B organisations
While brand measurement is valuable for all organisations, business to business (B2B) organisations face unique challenges when it comes to evaluating their performance.
Selling to other businesses is very different than selling directly to consumers. In B2B transactions, the sale can be a more involved and complicated process.
Traditional thinking would typically recognise B2B as more about existing relationship management than overarching brand, so in the past, very little brand measurement had been performed. However, defining and evaluating the relevant metrics for B2B organisations should really integrate an understanding of the interaction of both the performance of relationships, and the crucial role of brand.
Building and maintaining a strong, healthy and resilient brand is often easier said than done in the B2B space. Not only is brand health impacted by a variety of competing factors, but the number of metrics also used to measure brand can make the process of analysis difficult for those not specifically trained in the space.
But it is this analysis that can not only identify brand health and any factors impacting that, but also where the organisation may need to adjust its approach: the one-degree course correction. Data-driven insights can uncover shifts in direction that may not be obvious or apparent, but over time will move an organisation onto a less than optimal path. Brand measurement is a smart tool to ensure an organisation maintains its desired trajectory.
Brand measurement is the first step to control and improvement
At BrandMatters, our brand health measurement philosophy is simple – stakeholders follow strong, clear and accountable brands.
Effective brand research programs exist to make brands work more efficiently and effectively to achieve organisational goals. At the heart of our approach is a deep belief in the power of brands to build and grow organisations. This is built on three key principles:
1. Bring a 360° perspective – Brands are delivered and experienced both internally and externally. We aim to understand and embrace these different perspectives.
2. Drive actionable insights – Research findings only matter when they lead to action. Our approach aims to inspire those who deliver the brand and to arm them with knowledge, ideas and recommendations to strengthen the brand's performance. Our findings should be relevant and actionable across the entire organisation, not just the marketing department.
3. Put brand strategy at the centre – As experienced brand strategists and practitioners, we understand the power of brand, and connect our findings to brand strategy – checking how it is currently being delivered and recommending enhancements as necessary.
Why choose BrandMatters for your next research project?
We are deep experts in the operation and execution of brands in the B2B context.
We are commercially pragmatic, with extensive client-side experience.
By being methodology agnostic, we are able to provide a seamless integration of qualitative and quantitative measurement techniques.
We are a senior, deeply experienced, in-house research and insights team, with over 30+ years of demonstrable evidence in the Australian market.
We have specialisation across the full spectrum of brand strategy, capable of operating from insights to execution phases.
We are SME experts, with a normative database of over 25,000 Australian and New Zealand small to medium businesses.
Clear business strategy, empowered by insight and evidence
Health checks on your brand are as important as health checks for yourself. Early detection of a problem means the difference between success and failure. Receiving an objective assessment of how your brand performs in the minds of your clients, will provide you with the necessary insight on whether your marketing efforts are working, if your clients are understanding and receiving the messages you intended, and whether your brand and business strategy is moving your organisation in the right direction.
Considering the ongoing turbulence in both local and international markets, very few organisations in the B2B context have been unaffected. Evolving your existing brand strategy carries both opportunity and risk, but with brand research you have more of the tangible answers and direction you need to refine wherever necessary.
Brand measurement allows you to demonstrate accountability in terms of business and brand strategy. By harnessing the power of brand measurement, you have the ability to uncover new strengths, address challenges that have arisen from changing market conditions, and identify and communicate to the C-Suite any course corrections that are required.
Get in touch with our team if you would like us to prescribe the best brand health measurement program to keep your brand at its optimal position. You may also wish to download our Guide to Brand Research which provides valuable information on the different types of brand research and provides you with a toolkit for managing your brand research project.